Coaters of Industrial Fabrics in a Variety of Polymers
"We will always seek the best possible solution to your problems"
For more than 15 years PRILEX LTD coated materials have established a reputation for quality, reliability and cost effective performance in fire-safe and energy conserving applications. Our priority is always our customers, and for that reason we continue to seek the latest technology and techniques enabling us to meet our customers' specific requirements.
PRILEX LTD manufacturers fully approved coated products. The bulk of our business is in the coating of glass cloth for applications within the following industrial areas:
Heat Conservation - removable, reusable thermal insulation pads and jackets; exhaust pipe insulation
Fire Safety - fire blankets; cable tray protection systems; smoke and fire curtains
Heating and Ventilation Ductwork - flexible ducts and thermal insulation
Powergen Industry - expansion joints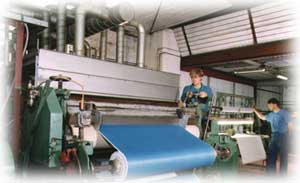 Offshore Exploration - pipe penetration seals; escape tunnel joint seals; module skirt seals; soft fire-proof enclosures; passive fire protection
As our fabrics are often used in some of the worst environments in industry, it is important that we have the correct specifications from our customers. This helps us to advise which coated fabrics are best suited to individual applications.
In addition to our coated fabrics, Prilex Ltd can supply loom-state, weave-locked, aluminised and graphited glass cloth together with weld stop fabric and high temperature glass and ceramic cloths.
| | |
| --- | --- |
| Address | Adams Close, Heanorgate Industrial Park, Heanor, Derbyshire, England DE75 7SW |
| Telephone Number | +44 (0)1773 767272 |
| Facsimile Number | +44 (0)1773 767273 |
| Email Address | ncolebrook@prilex.co.uk |
| Web Site Address | www.prilex.co.uk |
Our main Glasscloth coatings are:
Hypalon - Outstanding against sunlight and Ozone - good resistance against acid and solvent attack.
A temperature range of -20 °C > 135 °C
Nitrile - Good with Oils and Gasoline.
A temperature range of -30 °C > 115 °C
Silicone - Outstanding resistance to hot and cold, excellent electrical insulation and weather resistance.
A temperature range of -50 °C > 220 °C
Fluoroelastomer - Good resistance against chemical attack.
A temperature range of -20 °C > 220 °C
Vamac - Provides superb Ozone UV and weather resistance and can be compounded for reduced fire hazard.
A temperature range of -40 °C > 170 °C
Neoprene - Good with diluted acids and olis.
A temperature range of -30 °C > 100 °C
Disclaimer: Information in this publication and otherwise supplied to users is based on our general experience and is given in good faith, but because of factors which are outside our knowledge, control and effect in the use of said products, no warranty is given or implied with respect to such information. Specifications are subject to change without notice. Statements of operating limits quoted in this publication are not an indication that these limits can be simultaneously applied.
Prilex Ltd | Adams Close | Heanorgate Industrial Park | Heanor | Derbyshire | DE75 7SW | East Midlands | England | Telephone +44 (0) 1773 767 272 |
Facsimile +44 (0) 1773 767 273